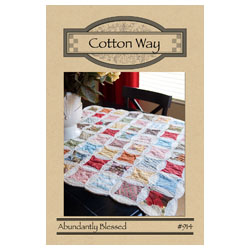 I have fallen in love with a new quilt pattern. It's called
Abundantly Blessed

by

Cotton Way

.
Also, the other thing I am lovin' lately is the new
Mary Englebriet (ME)
line called
Attitude Girls
by Moda.
I know, I know, you either hate ME, or you love her, but I think this is fabulous. In fact, I am going to go and get some more charm squares of her latest stuff because I think it's soooo fun. I have totally loved this quilt pattern and would recommend it to anyone who is looking for a fun, easy project to do this week. This, I love!